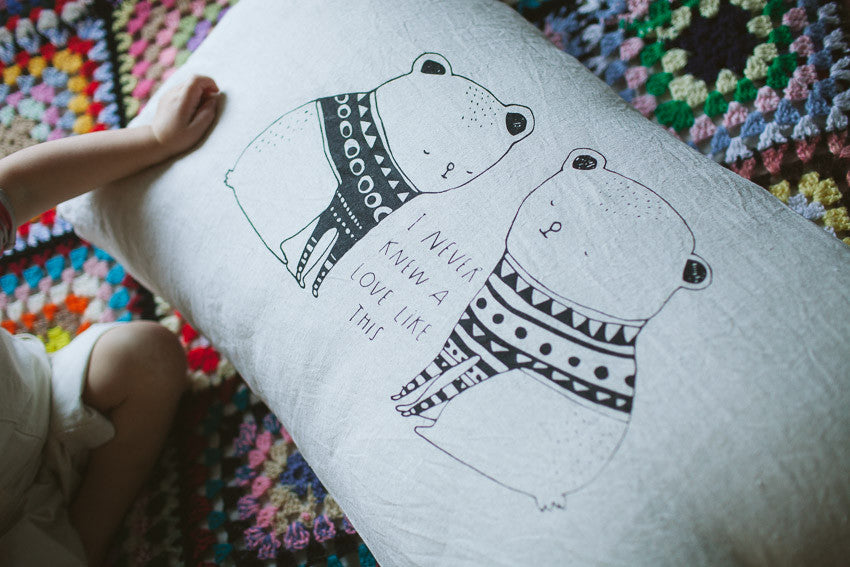 SOLD OUT // Launched October 2015 // When i stumbled across the drawings of Swedish based illustrator Maja Säfström i knew it was love.
Maja's simple sketch, monochrome style of drawing is sweet, but not sickly. Her drawings have wit, charm and make you oooh, aaah and laugh out loud. So when she agreed to do a commission for my linen range I was thrilled. Did I mention she had a 6 week old baby at the time!? Supermumma.
Known for her quirky animals, Maja created two little perfectly cosy Koalas for my little Aussie brand, in her signature patterned knits. The text "I never knew a love like this" was what I sent her and the results are perfect.
Every parent knows that overpowering love, it hits you like a truck (sometimes in the middle of the night) intoxicating, crazy, unparalleled, unbreakable. Relating to the love of a parent, or to could be to the love of your life, when you find that special soul mate. I adore everything this print represents and brings to mind.
Limited edition.
Hand screen printed on our custom, vintage washed, soft as soft 100% pure linen.
See more of Maja's work through her instagram @majasbok